SPACE COAST VEG FEST &  ENVIRONMENTAL EDUCATION EVENT.
Sunday November 18th 2018,  11 am – 5 pm
Riverfront Park, Cocoa Village
The fourth annual Space Coast Veg Fest will be held on Sunday November 18th 2018 in Cocoa's Riverfront Park.  The event is currently scheduled to start at 11.00 am and close at 5 pm.  Admission is free !!   In 2017 an estimated 8,000 people came to the event.
The event is intended to be both entertaining and educational. Our objective is to heighten the awareness of all things vegan and plant based, and to promote the health advantages of a plant based diet, as well as emphasizing compassion for animals and care for the  environment.
We will be inviting many of the vendors who participated in the 2017 event, and we're looking forward to meeting many new participants who will join us in making this another successful and enjoyable day.
If you'd like to participate or help this year, or even if you just have ideas or suggestions – feel free to email us at:  pr@healthyplanetofbrevard.com
Would you like to help promote Space Coast Veg Fest ?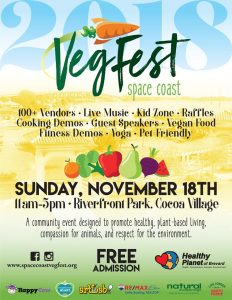 As well as liking and sharing the event on FaceBook and Instagram, why not download and print one of our posters and pin it to the notice board where you work, or ask your local store to display it in their window.
Here are the poster links (2 sizes) :
VegFest Poster (8.5 x 11)
VegFest Poster (11 x 17)